kyanited
The Hankyu-Hanshin Holding Group regularly
publishes reports
for its shareholders. In these reports, there is also information on the Revue's part in the group.


"The Group delivers inspiration and dreams through the Hanshin Tigers professional baseball team/Hanshin Koshien Stadium and the Takarazuka Revue, both of which are popular and enthusiastically supported not only in Kansai but throughout Japan, giving them unique brand recognition. These two powerful attractions are strengths that none of our rivals have, and they contribute strongly to brand value."


"In the revue and theatre business, a strong performer
was "Adieu Marseille," in which the leading male-role actress,
Sumire Haruno, gave a farewell performance. Takarazuka
Grand Theatre and Tokyo Takarazuka Theatre both enjoyed
high seat occupancy. Successful productions at Umeda
Arts Theatre included "Elisabeth" by Vereinigte Bühnen Wien
(United Stages Vienna) and the Umeda Concert by the NHK
Symphony Orchestra."


"Other customer draws included the opening of "Billboard
Live" club and restaurant chain (Tokyo, Osaka and Fukuoka),
launch of cable TV high-speed internet connection services
and events staged on top of Mt. Rokko in partnership with
Takarazuka Revue."



"In the Entertainment and Communications Segment,
operating income rose 63.2% to ¥8.5 billion (US$85.5 million).
This was attributable principally to strong stage revue
business and the fact that the Hanshin Tigers continued to
compete until the final stages of the season."


Also, some answer to the speculation about the new show schedule: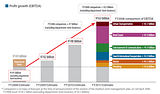 The report for the last year should be interesting, but isn't out yet.